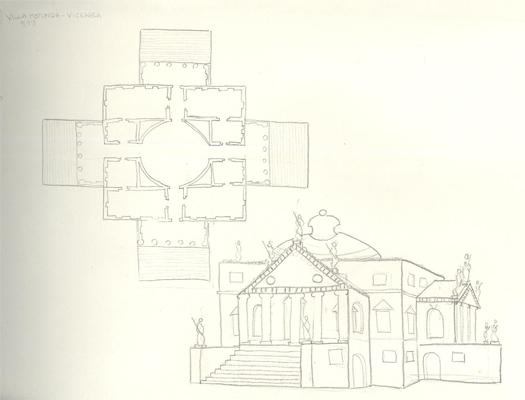 Is Palladio For You?
I am sitting in my Introduction to Architectural Design class watching and waiting attentively as my students attempt to draw, from memory, the plan, section, and elevation of Andrea Palladio's Villa Capra, "La Rotunda."
I am remembering the Fall of 1993 when I was put to this very task while studying architecture.  I was fortunate enough to be in Italy at the time and preparing for a field trip to the Veneto to see Villa Rotunda and several other Palladian masterpieces.  My instructor threatened that none of us would be allowed on the bus unless we could draw the building from memory.
I am also sitting here thinking to myself that at least one person in this class is going to go on in life to do something truly amazing in architecture – something that parallels the achievements of Palladio.  We know Palladio (and I should credit Scamozzi who championed the project after Palladio's death) modeled the Villa Rotunda on the Pantheon, and we also know thousands of more recent buildings have modeled themselves on the Villa Rotunda, Jefferson's Monticello among the most famous.
So why is this building so important? What is it about this building that has endured and seems to transcend time?  Is it its perfect geometry and complex symmetries?  Is it the durable materials?  Is it the bucolic setting – it is after all a farmhouse?  Perhaps it isn't the house our clients come and ask for, at least not literally, but there is something about the experience of La Rotunda that is present in almost everything we do.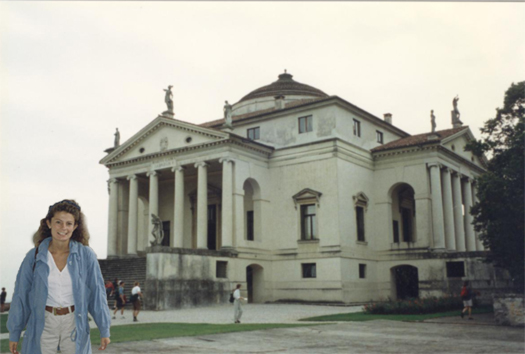 At VIA we strive to make buildings that respect, enhance, and interact with their surroundings.  We design buildings that could serve many generations to come.  We consider the sun, and views, and local materials.  La Rotunda is rotated 45 degrees off the cardinal axes as Palladio wanted to be sure all rooms received some direct sunlight.  In addition, the views through the building out into the open countryside are overtly emphasized and framed.  These are wonderful ways to connect a building to its place, making it belong and withstand changes of style and culture.
Several years from now when the aforementioned student accepts her or his Pritzker Prize (basically the Nobel  Prize equivalent for Architecture), I hope she or he recalls being intimate with Palladio, at least for just an afternoon.  I hope all my other students consider proportion, light, materials, and their connections to a place no matter where they go or what they do.
And, if you made it to the end of this post, perhaps you're hooked as well.