VERMONT INTEGRATED ARCHITECTURE STATEMENT ON EQUITY
VERMONT INTEGRATED ARCHITECTURE STATEMENT ON EQUITY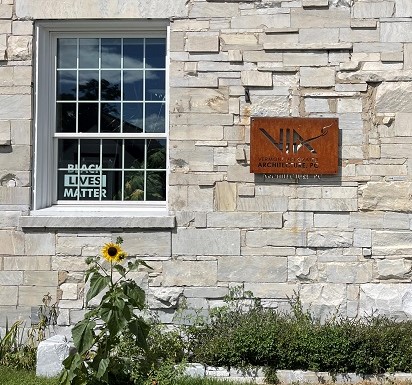 VERMONT INTEGRATED ARCHITECTURE STATEMENT ON EQUITY
At our core, we believe that everyone deserves to live, work, and recreate in environments that recognize and respect the dignity of all beings, foster the wellbeing and connectedness of human communities, support the healthy functioning of ecological communities and natural processes, and provide inspiration and delight. In this spirit:
We consider all people equally deserving of our respect and professionalism.
We welcome and prioritize projects that benefit whole communities, i.e. public libraries, affordable housing, and municipal facilities.
We employ multiple strategies to include broad public perspectives for community-level projects.
We strive for a portfolio that includes projects of all sizes and budgets and projects that preserve multi-faceted histories.
We seek every opportunity to foster ecological healing and restoration and continue to advance our knowledge and practice of regenerative design, so that built environments become net positive contributors to healthy local and global ecosystems.
We celebrate our interdependence – humanity and nature – and believe that diversity in every situation makes our world more stable, flexible, adaptable, enjoyable, and sustainable.
We are committed to using our architectural practice as a vehicle for education on many levels: clients, user groups, consultants, staff, and communities.
We believe that the practice of architecture benefits from students and professionals with diverse backgrounds and points of view and strive to support the education and professional development of underrepresented groups.
As architects are trained to imagine the future. We are asking ourselves:  What does a truly equitable society look like? What role does the built environment play in creating more equitable communities? As architects, how can we contribute to designing that effort? And, how can the spaces we design in Vermont foster a welcoming environment for all kinds of people, especially those underrepresented in our state?
We recognize that learning, understanding, and acting on that understanding is an ongoing process. We know that we do not have it all figured out. Our growing understanding of systemic racial, gender, and environmental injustice guides our work, so that every project brings us a bit closer to that equitable, flourishing future we imagine.