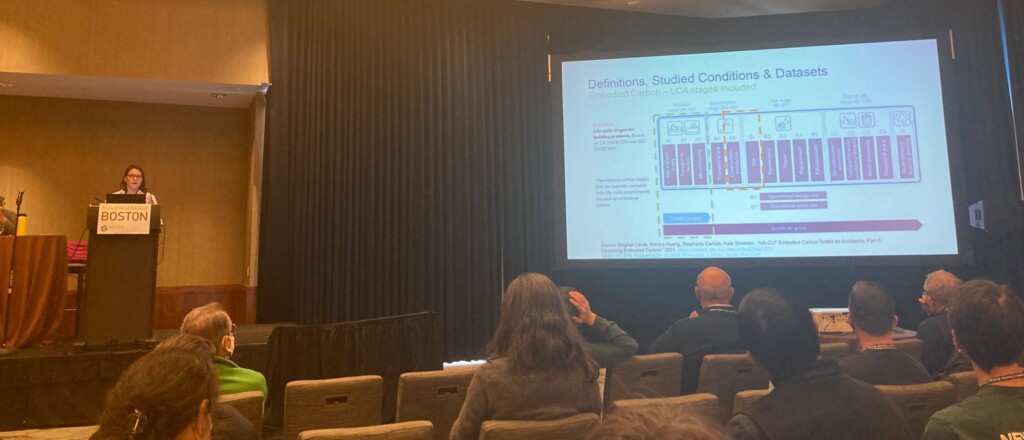 Megan presents research at NESEA BuildingEnergy Boston in 2022.
Megan Shares Expertise and Carbon Research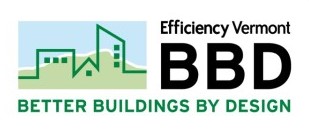 As conference co-chair of BuildingEnergy Boston this year, Megan and the conference leadership team curated sessions for the theme of "Scalable Solutions." She is pleased to be giving back to an organization she credits with having a significant effect on her career path. "This conference attracts sole proprietors and big firms alike, so there is a good mix of experience to learn from," says Megan. "And you get to rub elbows with the major sustainability leaders in our region." She appreciates the data-driven sessions offering replicable solutions and honest sharing of lessons learned. She is also impressed by NESEA's work on diversity, equity, and inclusion, its support of students and emerging professionals, and its commitment to workforce development.

Given her deep affinity for science, Megan is also enamored of the American Council for an Energy-Efficient Economy (ACEEE), a research organization that develops policies based on scientific data to address energy waste and climate change. Their biennial conference, Summer Study on Energy Efficiency in Buildings (affectionately referred to as "summer camp for energy nerds"), brings together industry leaders and professionals from around the world to share and discuss current research around decarbonization strategies to combat climate change. Megan (lead author), with colleagues from New Frameworks (Jacob Racusin) and VEIC (Leslie Badger, Chris Gordon, Brian Just) co-wrote a paper entitled The Climate Impact of Retrofits: Embodied and Operational Emissions in Weatherization, and was thrilled that the paper was accepted for publication in their peer-reviewed journal and invited to present at the 2022 conference: "Climate Solutions: Efficiency, Equity, and Decarbonization." Chris Gordon presented the research on behalf of the team in California. With some additional data and details from the original ACEEE paper, the research is also published as a white paper (Embodied and Operational Emissions in Retrofitting Vermont Homes) on the Efficiency Vermont website.

We're proud of Megan's work to advance our collective understanding of the long-term effects of the work we do.