VIA Supports Students in Solar Decathlon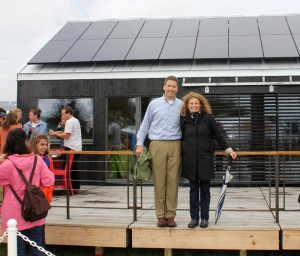 Local Architects and Middlebury College Faculty Andrea Murray and Ashar Nelson recently returned from the 2011 Solar Decathlon in Washington, DC where they acted in support of Middlebury College's Solar Decathlon Team.
The U.S. Department of Energy Solar Decathlon is an international competition for graduate and undergraduate student teams to design and build 100% solar-powered homes that are attractive, functional, and affordable.
The competition includes 10 contests – hence the name, "decathlon."  These contests range from architecture and engineering to affordability and energy balance.  Team Middlebury placed first in three of the ten categories landing them in 4th place overall at the end of the competition.
"Not too bad for a liberal arts college without professional programs in architecture or engineering," notes Murray who has been involved with the project since its inception.  "We surprised everyone with a sweet little house that was thoughtfully designed and constructed."
The Middlebury College entry is called, Self-Reliance, after Ralph Waldo Emerson's essay that encourages people to challenge the status quo, or convention.  "Our students have done this every step of the way.  They have challenged everything from the way a family feeds itself to typical construction methodologies," added Murray.  Self-Reliance features local, natural materials, a very very well-insulated building envelope, and a greenhouse wall in the kitchen where a family may grow its own herbs and vegetables year round.
"It's difficult to put it into words," said Nelson, "but we are so proud of what these students have achieved.  They have learned a great deal about buildings, but more importantly, they have learned how to collaborate with each other and members of the community to create something representative of their ideals."  Murray added, "They have also learned the value of a really hard day's work."
The student-led Middlebury Team did everything from developing a website for the project to raising the money to build and transport the house to DC and back.  Team Middlebury also is very grateful to the professional mentors and craftspeople within the community who taught them how to do many things from welding to cabinetry to electrical wiring and plumbing.  "Some of the houses on display in DC were not student-built.  Even though there are a few imperfections here and there, I am so pleased that our kids actually got their hands dirty and put this thing together themselves," noted Murray.
When asked about the challenges of advising this team, Murray noted, "The most difficult part is restraining myself from doing the work for the students."  Nelson continued, "It was our job to let the kids skid off into the ditch on occasion; we just couldn't let them go over the cliff, as the greatest learning often comes from making a few mistakes."
"I would also add that I have learned a great deal from these students.  I have learned to always question convention and that it is never too late to make a difference in the world.  These are things I think both Ashar and I have proudly taken into professional practice," Murray said.
Self-Reliance returns home to Middlebury in module this week and will be assembled on Porter Field House Road.  "We look forward to opening up the house to the public in the weeks ahead," offered Nelson.  There are so many cost-effective and energy-saving strategies in Self-Reliance that we could all apply to our homes.  It will be great to share that with our community."
In addition to teaching at Middlebury College, Murray and Nelson are partners in Vermont Integrated Architecture, or VIA, in Middlebury.  VIA focuses its energies on strengthening communities, supporting local economies, and sustaining healthy environments while also creating beautiful, functional spaces where people live, learn, work, and play.
To learn more about VIA, contact Ashar and Andrea at 802-349-4717, www.vermontintegratedarchitecture.com.
To learn more about Self-Reliance, visit the project website at http://solardecathlon.middlebury.edu.