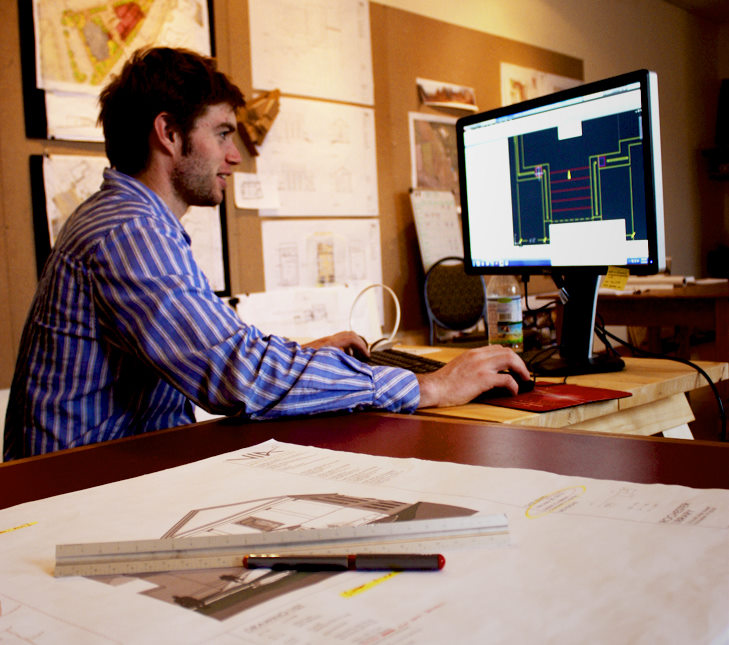 Interning at VIA
A week after graduating Middlebury College, I started as an intern at Vermont Integrated Architecture (VIA). The young firm is already up to its ears working on a range of projects, from a refrigerated apple storage facility to an island-home to an exciting new design for the Middlebury Town Offices.
Principals and founders Andrea Murray and Ashar Nelson served as lead advisers to the 2011 Middlebury Solar Decathlon Team and teach intro. studio architecture classes at the college, which is how I know them. They now advise the promising 2013 SD Team. As read-out-loud-worthy emails come in from students, I chuckle to myself, having been 'there' so recently. I feel somewhere between a proud graduate and a sneaky imposter.
The VIA office, located in Marbleworks across from the Medicine Chest and just behind Costellos, is spacious and well-lit, primarily by two large south-facing windows. The space used to be a Yoga Studio, and the smooth bamboo floor, high ceilings, and white walls – now decorated with architectural drawings, both hand and computer-rendered – are appropriately calming. Sometimes the music we play in the office, which we do often, accents this feeling of calm. Other times it does not, but sometimes you need a little action, right?
My desk is by the entrance and my computer faces the door, which keeps me honest as clients and subcontractors come in to discuss projects, or just to say hello. I sit next to Chris Nielson, a Midd and University of Oregon grad, musician, AutoCAD master, and Andrea & Ashar's number two. I came in last Monday having used CAD only a handful of times, and bothered Chris all week trying to learn the ropes. I continue to bother Chris this (my second) week, but less frequently.
As an intern, I work primarily on editing CAD drawings that have been "red-lined," which means that Andrea or Ashar have taken their carefully picked-out red pens to physical print-outs. I also get to make site visits, like last week when I visited a barn in Cornwall that Ashar is converting into a writing studio for a Sports Illustrated writer. Hours are relatively loose, which means I can do errands if I need to, or go skiing on a snowy day if I want to. I'm usually here regular shop hours, which are 8 – 5, but plan on taking a few Friday afternoons off.
I look forward to continuing my work at VIA for the next five weeks, and highly recommend the firm to architecture students looking for an internship!