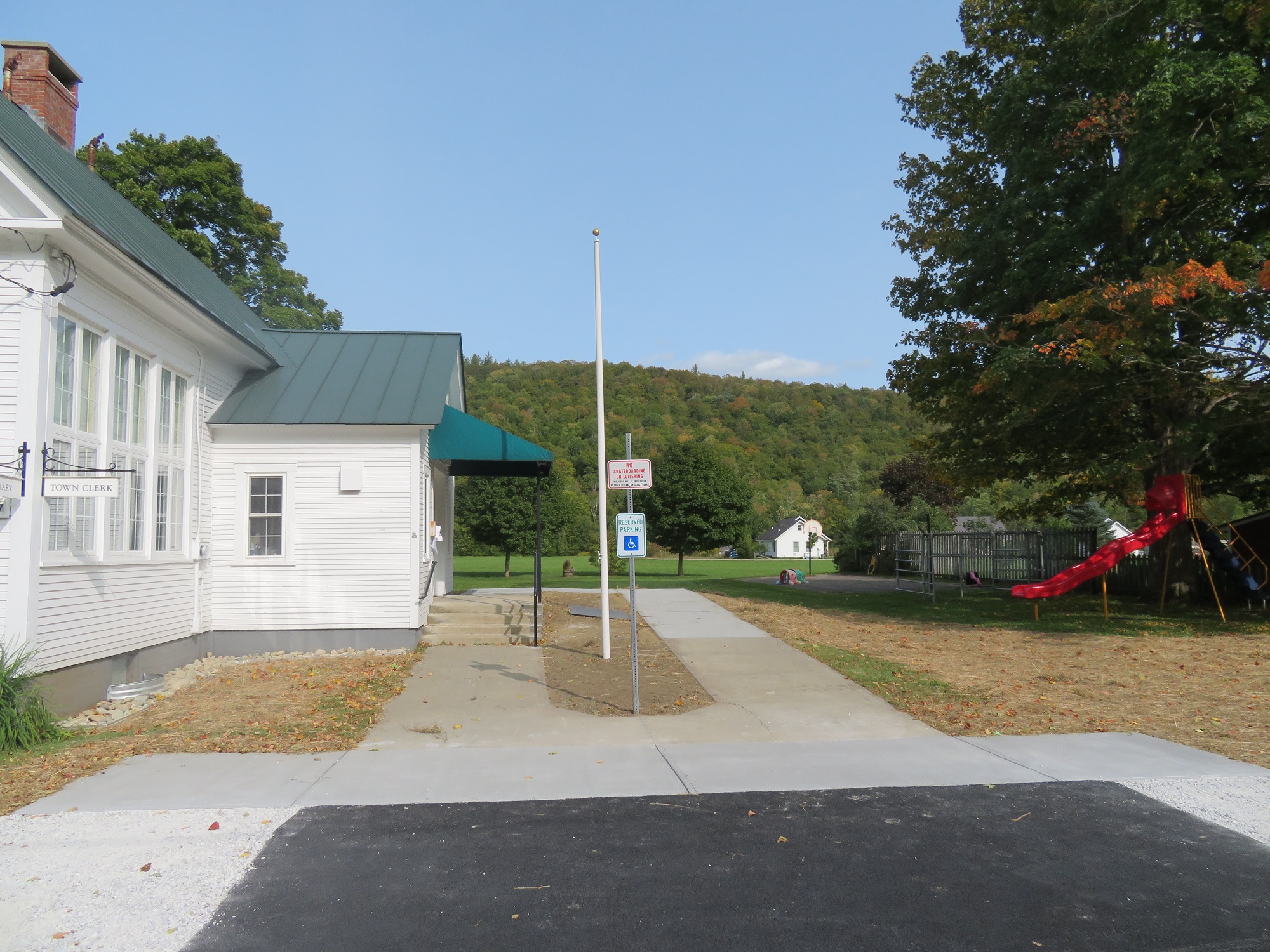 New parking space, entrance ramp, and stairs at the Hancock Town Hall.
Beyond the Pretty Pictures – Nuts and Bolts Architecture
We are eagerly anticipating the launch of our revamped website which is in its final stages of revision. As you might expect, it will showcase beautiful images of many of our projects. But much of what we do is more understated, though of no less value. Our project palette includes many small and mid-size projects that may not be photogenic, but are worthy of our attention and expertise both to further our mission to address climate change through the built environment and to ensure that architecture and design are available to everyone. Projects involving accessibility, life safety, energy efficiency, functionality, or adaptive reuse of existing structures often fall into this category.
We recently worked on an accessibility project for the Hancock Town Office building, reconfiguring the entry to include a ramp, landing, and stairs to better accommodate all Hancock residents. Our work at Porter Hospital over the last nine years often involves shuffling of rooms, making better use of space, or reconfiguring the inner workings of a department that most people will never see. Likewise, energy efficiency upgrades in walls, basements, and attics are the least glamorous projects, but likely among the most important!
One project we're particularly proud of is nearing completion. The Middlebury Police Department campus sits on the site of a former wastewater treatment plant off Seymour Street in Middlebury. Various remnants of the treatment plant, including storage buildings and holding tanks, remained on the site and have deteriorated over the years. Since early 2019, VIA has worked with the town of Middlebury on an adaptive reuse project to upgrade several buildings and utilities on the site.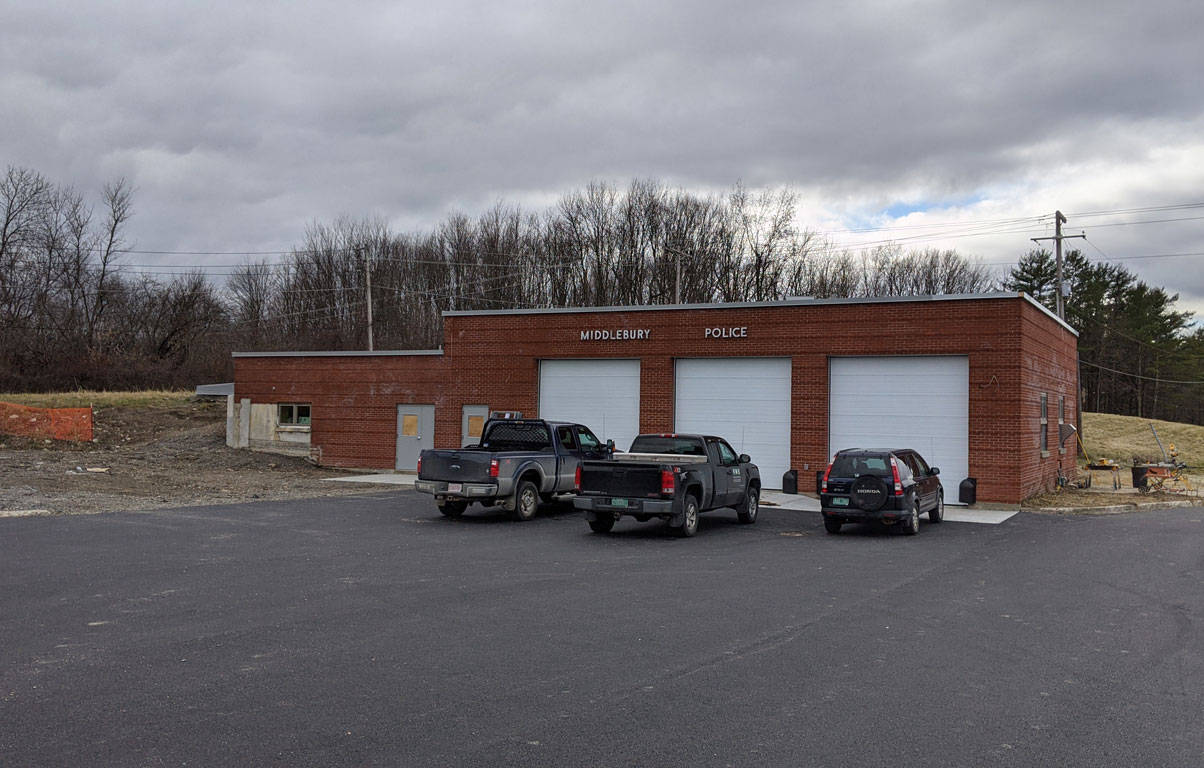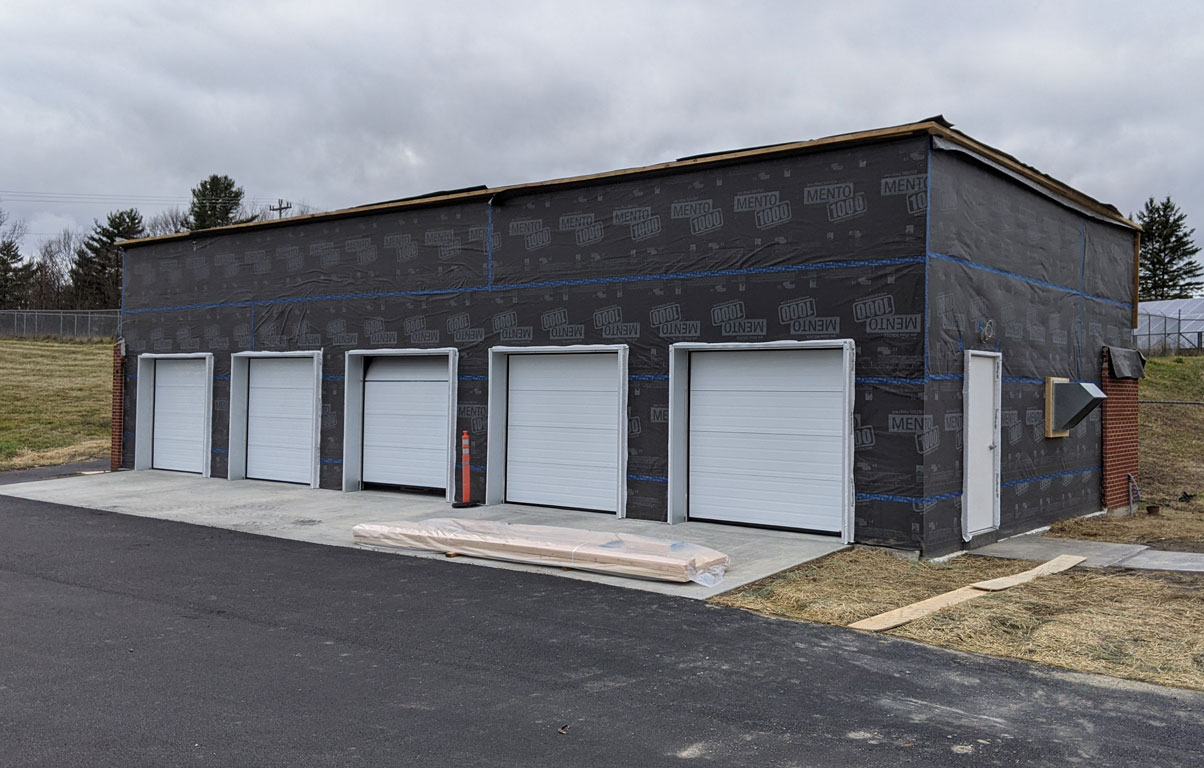 The former control building and reconfigured cruiser garage under construction.
The former sand filter building had been used as a garage but was partially rebuilt and reconfigured to provide much improved parking for five police cruisers. The upgrades improved performance, added insulation and heat, and included a complete new roof structure. Similarly, a large, leaky former control building has found new life functioning as a garage for larger vehicles, a forensics lab, and additional storage. Upgrades included a new insulated roof, windows and doors, insulation, and heating.
A driving goal of the re-use project was to make use of the existing infrastructure as far as was feasible and sensible, recognizing the value of these neglected but solid buildings and the energy and carbon they embody as built structures. Repurposing and restoration work is typically more difficult and strategic than new construction, but avoiding complete demolition, subsequent reconstruction, and the associated energy and waste made it a worthy challenge to take on.